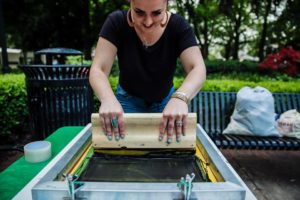 Congratulations to Melika Belhaj, winner of the MOVE 2017 Social Change Essay Contest! Read her amazing submission below, which perfectly illustrates the intersections between art, advocacy, philanthropy and youth empowerment, and the ways in which innovative, dedicated leaders can use these intersecting disciplines to create real change. 
Wisdom to influence social change exists intrinsically within our youth of color. For generations, they have woven ancestral knowledge and contemporary experience to form, shape, and lead movements, dreaming of a future that is more just. As a woman of color I have experienced the ways in which cycles of mentorship can influence social change across time.
When I was fifteen I met two Arab-American artists who acted as mentors to me through visual arts programming at The Neutral Zone in Ann Arbor, Michigan. They understood my identity; they pronounced my name correctly; they respected the ways in which who I am cannot be separated from my spirituality and ancestry. Through their support, I was shown that I could move justice forward in ways that reflected my culture. I did not have to pursue politics in a traditional sense, but rather, could uplift political conversations through community-based art. In my work with youth, my philosophy and actions reflect the mentorship I received as a young adult.
While working with an alternative high school in Portland, Oregon, I began co-facilitating a community art class. Class discussions ranged from the intersections of various art forms and expressions of identity to the ways in which art can act as a conduit to social, political, and environmental movements to re-imagine collective healing and liberation within our communities. As the value of art grew throughout our conversations, students developed a plan to bring their knowledge to the greater Portland community. In partnership with Portland's Regional Arts and Culture Council (RACC), the students facilitated a live-screen printing workshop for community members at RACC's quarterly networking event.
On the day of the event, students set up a table for printing and spent several hours sharing the work that they were exploring and making in our class. They facilitated printmaking sessions where participants were able to make prints designed by each of the students. Several students expressed to me that they were proud to show their work and felt honored by the participants' support.
Shortly thereafter, a student and I were accepted to participate in a teaching opportunity for artists of color. We worked together to create a workshop for 5-10 year olds, developing prints that read, "my dream is" and "my strengths are" for students to print and then draw and write on. During the workshop, my student worked with the youth and I supported, allowing him the space to lead the teaching. This particular student is a young adult who was raised in the very neighborhood where we held the workshop. Throughout the day he expressed pride in being from the community, recalling experiences from his childhood with the youth. Being witness to his strength in leadership and facilitation, his care for the youth, and his interest in giving back to his neighborhood, showed me the cycle of mentorship coming around fully.
Having the opportunity to support community-based art experiences has shown me that youth are the heart of our movement. They are the breath. The life. They embody the lessons of our elders, and our ancestry, and they also challenge ways of thinking that may be antiquated. In these ways youth can be both students and educators. I have been touched by these experiences, and am committed to carrying forth the movement by both honoring those who have come before me, and inspiring future leaders.
Melika Belhaj is a Moroccan American writer and youth educator. Her work explores the dynamics of authenticity, tradition, and identity. She wrote and designed Binti: Daughter of Arab America in 2016 and is currently one half of Ya Banat, a storytelling project reframing narratives of the North African Diaspora. Melika offers pop-up dinners that provide space for artists and community to connect and build. In her free time she plays basketball.