Philanthropy literally means "the love of humanity," and at MOVE 2017, we're giving our attendees the opportunity to participate in philanthropy through an ongoing interactive service project in partnership with Arts & Scraps. Read below to learn more about the awesome work that they do, and the project being featured at MOVE 2017.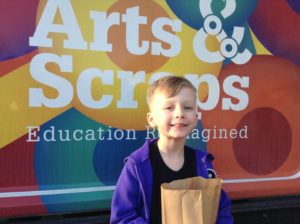 Arts & Scraps is a 28 year-old Detroit nonprofit that uses recycled industrial scraps (and donations from individuals like you) to reimagine education. We use arts integration to help people of all ages engage in Science, Technology, Engineering and Math. In addition, we have a store that is open 3 days a week that makes raw materials available to all at extremely low cost. Finally, we assemble pre-made educational kits to sell online throughout the US. Each year we serve approximately 50,000 children through our programs and 275,000 people through all we do.
Arts & Scraps' main impact has been empowering children and those who work with children. Our store, kits and programs have been centered on making education more fun and more accessible to all. Most people think of STEM education as something they can't do because they don't "know" science etc. However, through art integration, not only are teachers more empowered, but students learn more than just the basics. They interact with the toughest concepts, form their own conclusions and use their imagination to create based on what they have learned. They gain a deeper and longer lasting understanding and have lots of fun doing it.
At the core of our educational philosophy is choice. Children are not given the power of choice often. When they are, it builds their confidence, communication skills, decision making and problem solving skills. Because of this, we use our ScrapMobile (and our community store when students are at our center) to help students experience the freedom and power of choice. Students receive a simple paper bag, are given a few instructions (best practices and safety) and told to "have at it". It's incredible to watch as students pick through our 22 bins of materials on the ScrapMobile and hear what they plan to make with them. We often hear students exclaim "This is the best day of my life!"
At MOVE 2017, you will have the opportunity to reach out to a child directly by decorating one of these paper bags during breaks or down time. Instead of receiving a plain paper bag, they will receive a bag that has an encouraging message, a fun picture or whatever your creative heart desires. When we have done this previously, we have often had students ask "Who decorated these for us?" When we explained that there were people that just wanted to brighten their day, they were amazed. The decorated bags bring extra smiles and encouragement to the students we are able to serve.
Written by Ang Hart
Associate Director
Arts & Scraps