We are seeking volunteers for MOVE 2017: An Arab American Summit to Advance Social Change. Multiple volunteer roles are available. Please see the drop down menus below for role descriptions and sign-up information for specific roles and time slots.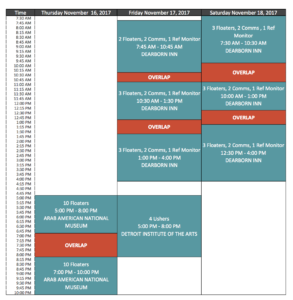 (Click to Enlarge)
Anyone who volunteers for a three-hour time block will be able to attend the rest of that day for free. You are able to volunteer for multiple days, but please only sign up for one three-hour block each day.
Volunteers will be required to attend an orientation on Thursday, November 16 at the Dearborn Inn in Dearborn, MI.
You will receive an email prior to MOVE 2017 with details, orientation and logistical information. Please contact Christi Taylor with questions.
No FAQs Found