Plenary Speakers

Dr. Mona Hanna-Attisha
Thursday Lunch Keynote Address
This highly anticipated keynote address features Dr. Mona Hanna-Attisha, a physician and leading advocate for health equity, young people and justice for all communities, who will energize our audience to work together and take action to create change.
Dr. Mona Hanna-Attisha is the C. S. Mott Endowed Professor of Public Health at Michigan State University College of Human Medicine and founding director of the Pediatric Public Health Initiative, an innovative partnership of MSU and Hurley Children's Hospital in Flint, Michigan.
A pediatrician, scientist, activist and author, Dr. Hanna-Attisha was named one of Time magazine's 100 Most Influential People in the World and recognized as one of USA Today's Women of the Century for her role in uncovering the Flint water crisis and leading recovery efforts. She has testified multiple times before the United States Congress, lectures at dozens of colleges and universities, and frequently contributes to national media outlets championing the cause of children in Flint and beyond.
An accomplished academic and an inspiring change-maker, Dr. Hanna-Attisha is the author of the widely acclaimed and New York Times 100 most notable book, What the Eyes Don't See: A Story of Crisis, Resistance, and Hope in an American City.
Dr. Hanna-Attisha serves on several advisories/boards including the Flint Child Health and Development Fund (flintkids.org), Physicians for Human Rights, Arab Community Center for Economic and Social Services, and Abraham Lincoln Brigades Archives.
With concentrations in environmental health and health policy, Dr. Hanna-Attisha received her bachelor's degree and Master of Public Health degree from University of Michigan. She completed her medical degree from Michigan State University College of Human Medicine and her residency and chief residency at Children's Hospital of Michigan in Detroit. She is the recipient of numerous honorary degrees.
Democracy Deconstructed
Friday Lunch Plenary Panel
White supremacy is more than just a concept. It shows up in very real and harmful ways, via the lack of access to education, health care, and the gutting of our voting rights. Preventing access to these basic rights further perpetuates supremacist ideals. As we continue to strive for a democracy that is inclusive of Arab American needs and voices, we must acknowledge that supremacist ideology has been baked into the framework of our democratic systems for centuries, resulting in the historic disenfranchisement of black and brown people, which was further exacerbated by the COVID-19 pandemic. This panel will discuss gaps in health equity, disparate access to quality education, attacks on voting rights, and the growing wave of climate migration.
Chief Deputy Attorney General Fadwa Hammoud
Fadwa Hammoud is currently the Chief Deputy Attorney General at the Michigan Department of Attorney General. As Chief Deputy, Ms. Hammoud is responsible for overseeing the Department's 3 Bureaus which are comprised of 18 civil divisions, and 4 criminal divisions, its Criminal Investigations Division and the offices of Human Resources, Fiscal Management, Legislative Affairs and Public Information and Education. In total, Chief Deputy Hammoud oversees over 500 employees and is responsible for managing the Department's $100 million annual budget.
Chief Deputy Hammoud started with the Department when she was sworn in as Michigan's 12th Solicitor General on January 15, 2019. Upon her appointment by Attorney General Dana Nessel, Hammoud became the youngest ever Michigan Solicitor General and the first Arab-American Muslim Solicitor General in the United States. She also made history by becoming the first Arab-American Muslim woman to argue before the United States Supreme Court, having recently argued Brown v Davenport, a habeas corpus case where the State of Michigan argued that the Sixth Circuit Court of Appeals applied the wrong test, and, in doing so, disregarded Congress's directive in the Antiterrorism and Effective Death Penalty Act. Hammoud supervised all appellate activity and, as bureau chief of the Criminal Justice Bureau, supervised all criminal divisions in the Department as well as the newly created Conviction Integrity unit.
Hammoud assumed her role as Michigan's top appellate attorney after years of public service on behalf of the people of Wayne County. As Lead Attorney under Wayne County Prosecutor Kym L. Worthy, Hammoud established the Business Protection Unit and prosecuted criminal enterprise, homicide, financial crime, and identity theft cases. Hammoud also served as a Trustee and Treasurer of the Dearborn Public Schools Board of Education and the Henry Ford College Board, championing public education in her hometown. A first-generation American, Hammoud advocated on behalf of Wayne County's various ethnic and immigrant communities and advised state, county, and city leaders on their affairs.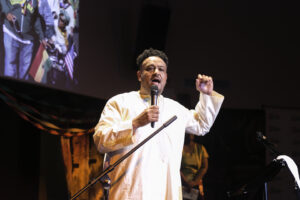 Amaha Kassa
Amaha is the founder and Executive Director of African Communities Together (ACT). Amaha has 25 years of professional experience as a labor and community organizer, nonprofit director, and social entrepreneur. For nine years, Amaha directed East Bay Alliance for a Sustainable Economy, a workers' rights nonprofit in Oakland, California, growing it from a startup to one of the leading organizations in its field. Prior to launching ACT, Amaha earned his law degree from the University of California, Berkeley and a Master's in Public Policy from Harvard Kennedy School. He is an immigrant from Ethiopia."
Marjorie Sims
Marjorie has more than 20 years of experience in advancing the status of women and families at local, state, national, and international levels. She formerly served as program officer at the W.K. Kellogg Foundation (WKKF) with a specific focus on family economic security programs and managed a $65M grant portfolio. Prior to joining WKKF, Sims held the positions of Chief Operating Officer, Interim President, and Vice President of Programs and Operations at the Washington Area Women's Foundation. During her tenure in Washington, Sims helped launch Stepping Stones, a $5M, multi-year, regional initiative to increase the income and assets of women-headed families. Stepping Stones received national recognition as a model public-private partnership. In addition, Sims served as the Executive Director of the California Women's Law Center and as a Policy Analyst with the International Center for Research on Women. She is a co-founder of Women's Policy, Inc., an organization that emerged from the Congressional Caucus for Women's Issues to provide unbiased analyses and educational briefings about federal legislation affecting women and families. Sims has additional expertise in expanding women's philanthropy and managing leadership transitions.
Marjorie currently serves as Vice Chair on the board of Springboard to Opportunities  and as an advisor to the American Public Human Services Association (APHSA) National Advisory Committee on State and Federal Systems Alignment to Improve Whole Family Approaches to Economic Mobility; the Transformative Consumer Research Executive Leadership and Social Impact Council; the Corporation for Public Broadcasting (CPB) and Public Broadcasting Service (PBS) Ready to Learn initiative; and the Measuring SUCCESS Project: Technical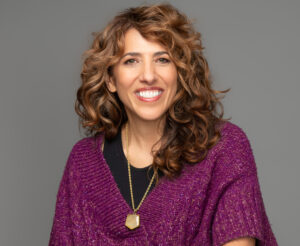 Dr. Nadine Naber
Dr. Nadine Naber is a Professor in the Gender and Women's Studies Program and the Global Asian Studies Program at the University of Illinois at Chicago. She is author/co-editor of six books, including Arab America: Gender, Cultural Politics, and Activism (NYU Press, 2012); Race and Arab Americans (Syracuse University Press, 2008); Arab and Arab American Feminisms, winner of the Arab American Book Award 2012 (Syracuse University Press, 2010); The Color of Violence (South End Press, 2006), Towards the Sun (Tadween Press/George Mason University, 2020) and Pedagogies of the Radical Mother (Haymarket Press, In progress). She is lead author of the policy reports, "Beyond Profiling and Erasure: Cultivating Strong and Vibrant Arab American Communities in Chicagoland." (IRRPP/UIC, 2022) and "The Paradox of Social Development in the Arab Region" (United Nations, 2015). She is the recipient of various awards such as the 2022 Lifetime Achievement Prize from the American Studies Association; the 2002 YWCA's Y-Women's Leadership Award; and the 2021 Andrew W. Mellon Humanities without Walls Grand Research Challenge Award. Dr. Naber is the co-founder of the academic program, Arab and Muslim American Studies at the University of Michigan, Ann Arbor. At UIC, she is the faculty founder/former director of the Arab American Cultural Center and Co-PI of the Middle East Cluster. She is a TEDX speaker, the co-founder of Mamas Activating Movements for Abolition and Solidarity (MAMAS) and Liberate Your Research Working Group.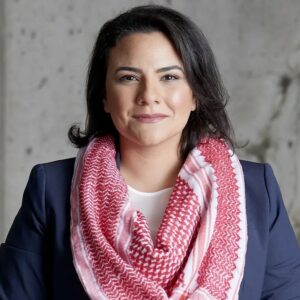 Rana Elmir, Moderator
Rana joined Proteus as the Program Director for the RISE Together Fund, having devoted her career to storytelling, action and activism. For nearly 16 years, Rana was a member of the ACLU of Michigan's senior leadership team starting as Communications Director, then Deputy Director and finally interim Executive Director. Working with a 35-member team, Rana led various equity, diversity, inclusion and belonging efforts. She also guided legal, advocacy and media strategies, and campaigns externally centered on the most pressing civil rights issues in Michigan. These included supporting Black, Arab, Middle Easter, Muslim, and South Asian (BAMEMSA) and immigrant communities, LGBTQ equality, criminal legal reform, reproductive freedom, and racial justice. However, as a former newspaper reporter, Rana is first and foremost a storyteller. Some of her most compelling tales stem from the experiences of her immigrant family, who fled to the United States from Lebanon when Rana was still a small child. In addition, Rana often lectures often on issues related to anti-Muslim bias, the importance of free speech and the intersection of race, faith, gender and LGBTQ rights.
Rana is a graduate of Wayne State University's Journalism School and the Journalism Institute for Media Diversity. She currently serves on the Board Executive Committee of ACCESS, the nation's largest Arab American community non-profit.